Simply put, you need a consistent flow of customers to grow your home building business. Bringing in customers is going to require your website to be your digital storefront. This includes working on the ranking factors for SEO on all of the pages across your site. Doing this will increase your visibility and rankings across the web and help you stand out from your competition in every service you offer.
Let's define search engine optimization.
Providing a service or product that you think is steps above your competition? That's only half the battle in business. The other half is making sure potential customers can find you. This is the whole idea behind search engine optimization or SEO. As SEO specialists, we develop your website in a way that will increase visibility and rankings in search engine results. Generally, the three main principles of SEO involves on page factors, off page factors, and technical SEO.
SEO also provides a better return on investment for business owners in comparison to other avenues of marketing. This is generally because after the intial upfront cost of start SEO campaigns, rankings and results usually snowball making it easier and easier over time to rank for valuable keywords. Not only are you recieving free traffic and organic rankings that you don't pay for, but the searchers are already invested and looking into the solutions offered in your industry.
Important SEO Factors
There are so many different SEO factors that are important to google, but let's focus on the factors that are going to make up the majority of how your site performs.
Keyword research
Using your preferred keyword research software, determine the most valuable keywords for your industry and use that to develop your content and other page efforts.
Tip for New Businesses or Small Websites: The volume of a keyword is something you should consider, but when starting a new site or SEO strategy, it may be beneficial to focus on low volume keywords that are still relevant in order to build that initial traffic to the site. 
URL
URL is another one of the major factors that site owners can control and use to their benefit. This is one of the first pieces of data that google sees when crawling websites. Look at your URL's and make sure that they are clean and keywords are being utilized in your URLs. Some websites will automatically generate URLs if there is no rule or predetermined structure in place when you're creating pages.

Meta Description
Meta descriptions are not a direct ranking factor anymore so there is a common misconception that they are useless and most websites don't give them the time they deserve. This description should provide information that makes you stand out from the other competitors on the page as CTR (Click Through Rate) is important to google when determining rankings.

Responsiveness
As the internet and the web have developed and become more common, Google is starting to reward websites and business owners who can make their site responsive and easy to access mobile pages. Our favorite tools for testing site speed and usability include:
GTMetrix and Google's Mobile Test
Some ways to make sure your site is responsive and quick to load include:
Minimizing media to improve loading speeds
Working with web developers to minify coding
Working with your hosting provider to ensure speeds are as fast as possible
Internal Links
Internal links help provide relevance to your pages and site while also improving the overall time that potential clients and customers spend on your site. One of the most effective strategies to improve page ranking involves using internal linking audit to tell and help google be confident on what your page is about.
Backlinks
A backlink are the links that you see on pages while searching the web. These links provide google with relevance on your page and content while also provide a signal of authority to google. Backlinks are involved in some of the most important factors for ranking your webpage.
How to Optimize Media for Search Engine Optimization
Text - Although the "target keyword" on your page is incredibly important, LSI keywords are important as well because they give value and further ensure to google that you're providing topical depth to your page ensuring that you are answering the searchers questions.
Images -Google can't read images (yet), so they use a term called alt text to determine what an image is about. Its helpful to include images on the majority of your pages with descriptive alt text to increase that topical relevance on your page.
Videos - Youtube is the second biggest search engine in the world and guess who owns their company? Google. That's right. That being said the search algorithms on both platforms are probably very similar and  we can assume that video content on YouTube plays an important role in google plans for the future of search.
Search Engine Optimization Techniques for Custom Home Builders
SEO tactics are always changing, but there are multiple key strategies that stand the test of time. We will take about some of the most effective ways to increase rankings for your site below.
SEO audit for your site
SEO audits can cover some really basic topics, but by going through audits we can cover the essentials and make the foundation of your digital home is in good standing order. Audits can cover a ton of different areas, but it's good to start on the factors you can control first, like on page audits involving your site. SEMRush has not only a great tool for audits, but also provides a step by step audit checklist list on the most important factors to ensure your website is performing well for google.
Improve User Experience and Speed
As touched on briefly above, google now sees page and loading speed as a ranking factor for your website. Mentioned by google, it seems speed and loading won't make or break your site from ranking at all, but that when things start to get competitive, speed and page loading may be one of the better factors at determining a winner in even situations. Win once? That's great. But over hundreds of keywords, speed and page load could improve your numbers substantially. It also provides a great experience for your users.
Topical Content and Site Structure
This a bit of a combined strategy, but from a very high level expectation we as business owners are looking to encourage google that we are indeed the expert and the right person for the job when it comes to "home building". Now everyone can go online and post that in fact, they are the top home builder in this town. But what really separates them in the eyes of google that allows them to rank businesses in certain spots? Well, when we think of what makes someone an authority in an industry, we are talking about someone who has vast knowledge.
Lets take for example, a site with one page talking about home remodeling with no other pages regarding the topic. Then we have another site with a page about home remodeling with supporting articles talking about estimated home remodeling costs, should you remodel or build new, what is the most expensive part of a home remodel? When you answer and show google that you are educated on every topic and question of an industry, that's when google will start trusting you. Create content around your hubs and link them together for support and google will start to understand how authoritative you are.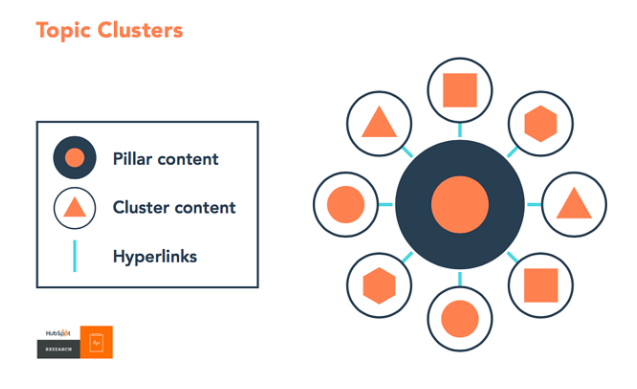 Technical SEO Errors to Check for
While it isn't good to have technical errors, the good news is they are quite common with smaller businesses but can easily be remedied for most site owners. And even better, once these technical fixes are in place, they usually don't need to be touched again:
HTTPS
Similar to the website loading and speed, having a secure webpage looks better and provides google with comfort knowing that no malicious attempts or issues are happening on your website.
Linking Errors
Following a link that results in a 404 error message is essentially a dead-end for Google and your audience, which will not reflect positively for your rankings. So it is important to fix these error pages by redirecting those URLs to functioning pages with content. Tools such as Monitor Backlinks can help you identify 404's so you can redirect them to the next most relevant page on your site.
Local SEO will drive even more traffic
Google now serves most searches based on the area that they think you reside in making local information incredibly important in providing customers with accurate information to get a hold of a business and verify who you are. In many local searches we see added information in the search results themselves like reviews, locations, and even extra service they offer. Make sure you are maximizing your local SEO through resources like:
Directory Listings
Local directories provide a way for google to verify and confirm your address, phone number and any other number of factors that you business can provide. Google uses directories to essentially test to variation between your registered information and the information that other directories have on you to ensure that your business is registered in a similar fashion across multiple databases. One of the most popular platforms, Google my business, is owned by google and essential to ensuring google that you are a legitimate business that is an authority in the home building industry. Other local directories can include the yellow pages. This is also a great area to look at your competitors backlinks and find niche specific directories that they may be using. Ex: Houzz.com is a great example of a home building directory site.
Local Keyword SEO
Local keywords need to be a thought when designing your keyword research strategy. Be sure to check keyword volumes for multiple counties and cities that you service as some searchers may look by county first or city or town. Some cities also might be worth ranking for while others may not have any search traffic at all.
Schema Markup
Instead of just taking up one small space on the first page, Schema allows google to highlight your business even more by providing extra data like other common pages on your site that may be relevant, reviews on your site, and sometimes even another full search result nested under your first one if another page is deemed relevant enough for the users search phrase.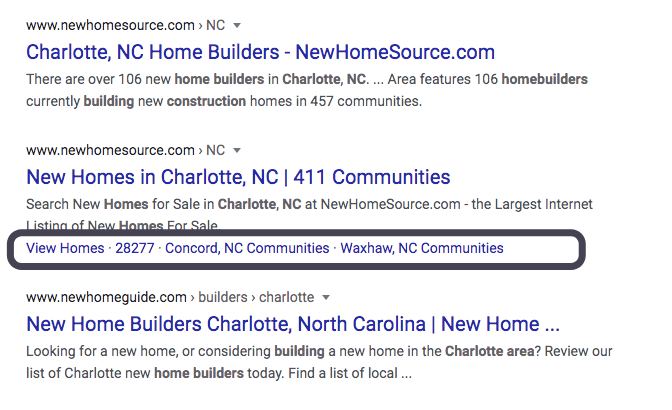 Keeping Up with SEO
Once you have implemented these features, congratulations you are on the pathway to success in SEO. Truly, the maintenance part of SEO involves creating content and expanding exponentially in authority using content and backlinks. The more google trusts the authority of our pages, the more likely we are to rank for keywords. Therefor the more backlinks and topics that your home building site covers, the better of your rankings will be. Tools like SEMrush and AHrefs can help you with finding content ideas and ideas for backlinks.
SEO tactics are always changing but if you follow these SEO strategies above, we guarantee you will see results and be in a much better place than when you started. Feel free to contact us with any questions or assistance.
If you would like to see how you can grow YOUR construction business with a marketing plan, strategy, and implementation - Reach out to us below! 
Frequently Asked Questions From Home Builders